Have you been thinking about making changes to your student's education? CCS has an open house on February 10th to answer your questions, show you around the school, and get you started on enrollment. Planning to join us? Use this link to let us know:
https://forms.gle/eSD5TrPYmjcWvV8y6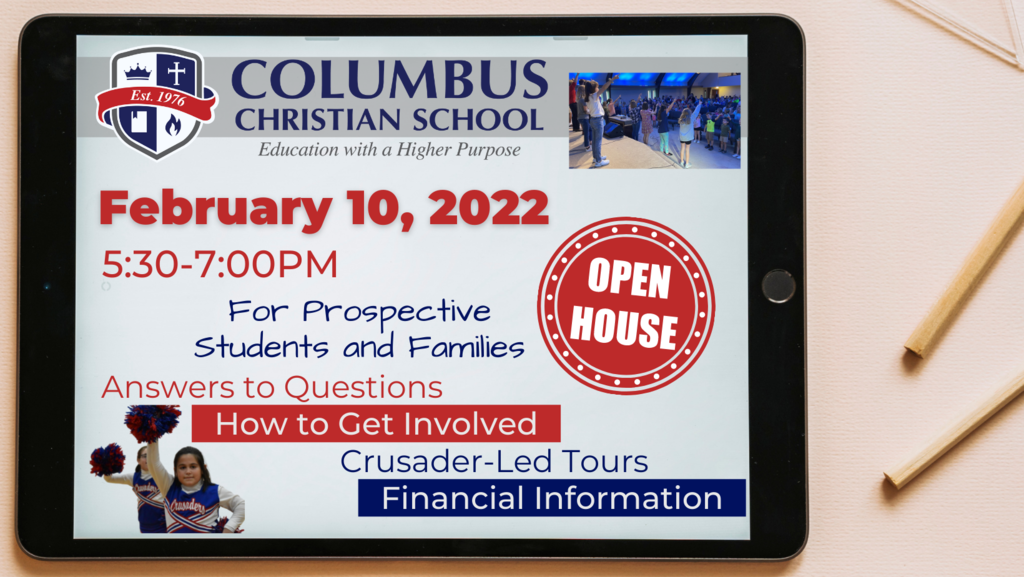 Tomorrow marks 100 days of school at CCS! We can't wait to celebrate 🎉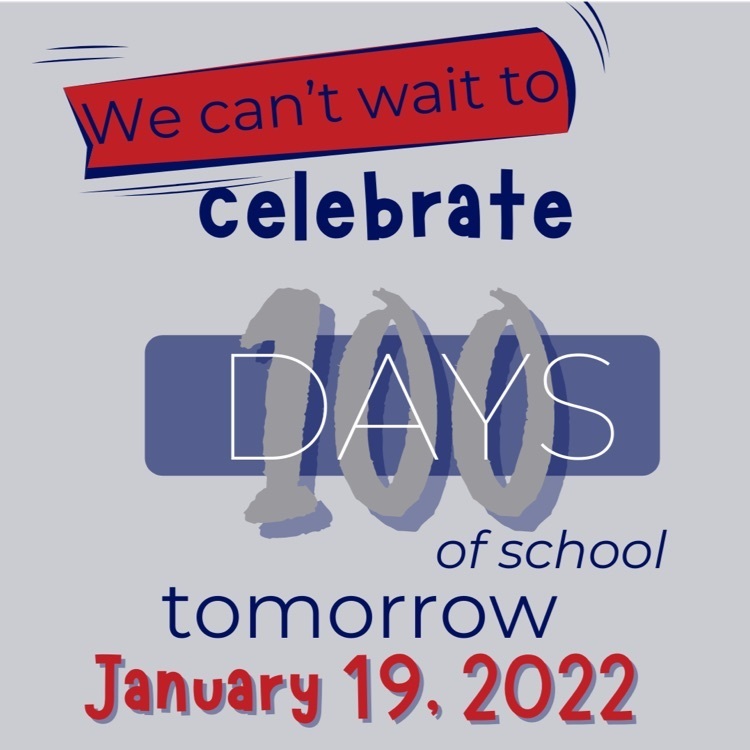 We are currently looking for a Secondary Social Studies teacher to join our Crusader Crew! If you are interested, please contact Mrs. Donnell at
adonnell@columbus-christian.org
!

This weekend is full of 🏀 Basketball 🏀 at CCS! We need YOUR help in the Concession Stand! Email Coach Roth (
kroth@columbus-christian.org
) or email Mrs. Carlson (
tcarlson@columbus-christian.org
) if you can help us this weekend. Coverage needs are listed below (we need at least 2 people per shift): 🥨 Friday night: 4:30pm, 7:30pm, 9pm 🥨 Saturday: 9am, 12noon, 1:30pm, 3pm, 4:30pm, 6pm, 7:30pm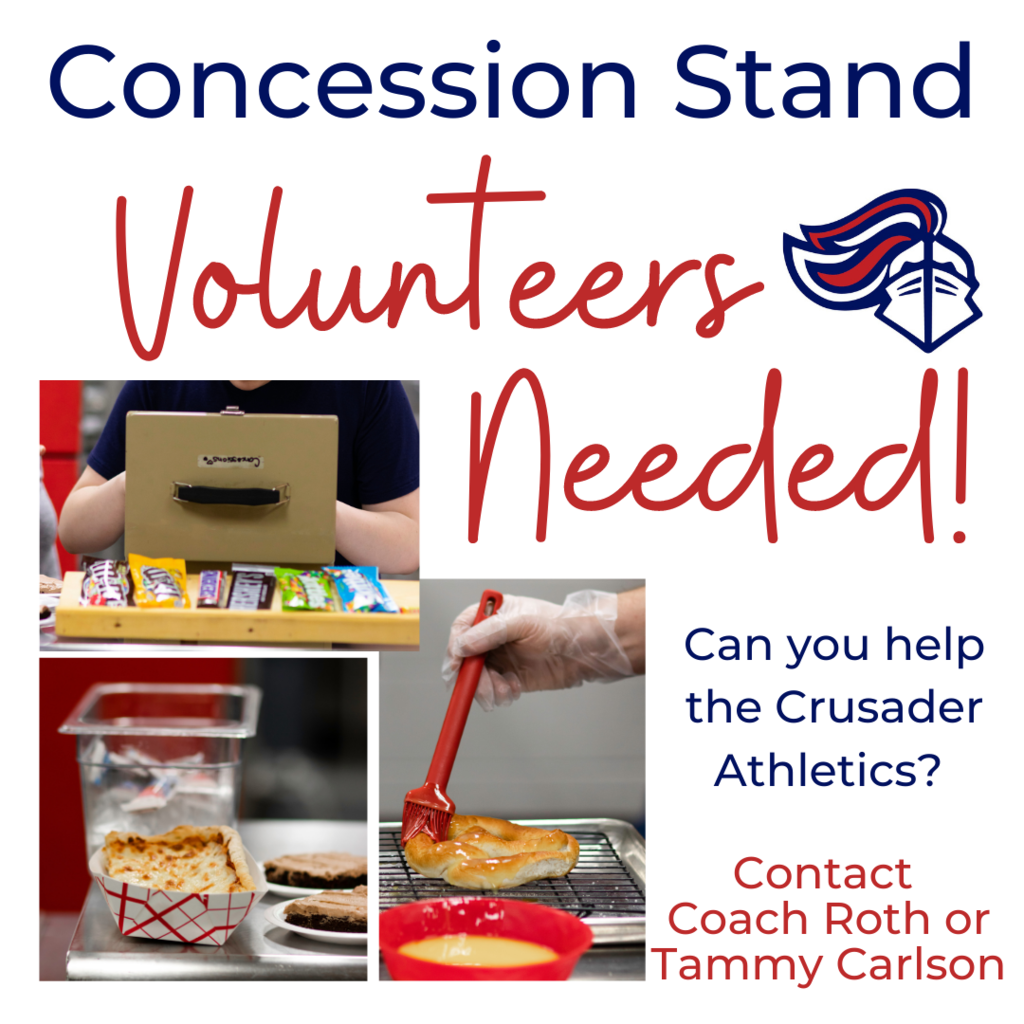 We have a PTF Meeting tonight in Mrs. Sidener's room at 5:30pm. All families are welcome! We are planning to cover a few fundraisers that will be taking place this semester and some exciting activities that are also in the works! Hope to see you there!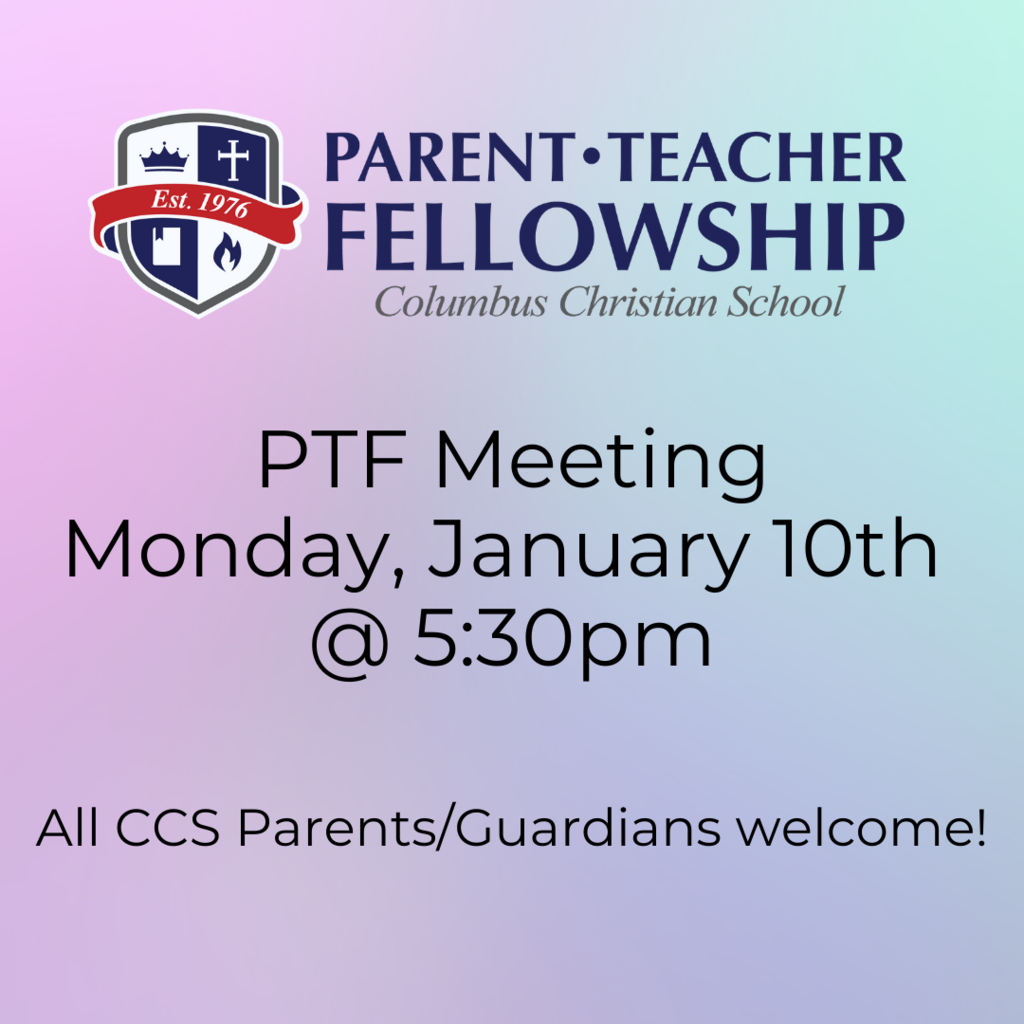 School starts back up Thursday! Families, please be sure to take a few minutes to check out this month's Breakfast and Lunch Menu & order your student's meals (you can use the CCS website or app). Also, please be watching the weather; students need to be dressed appropriately for the winter weather before going to recess.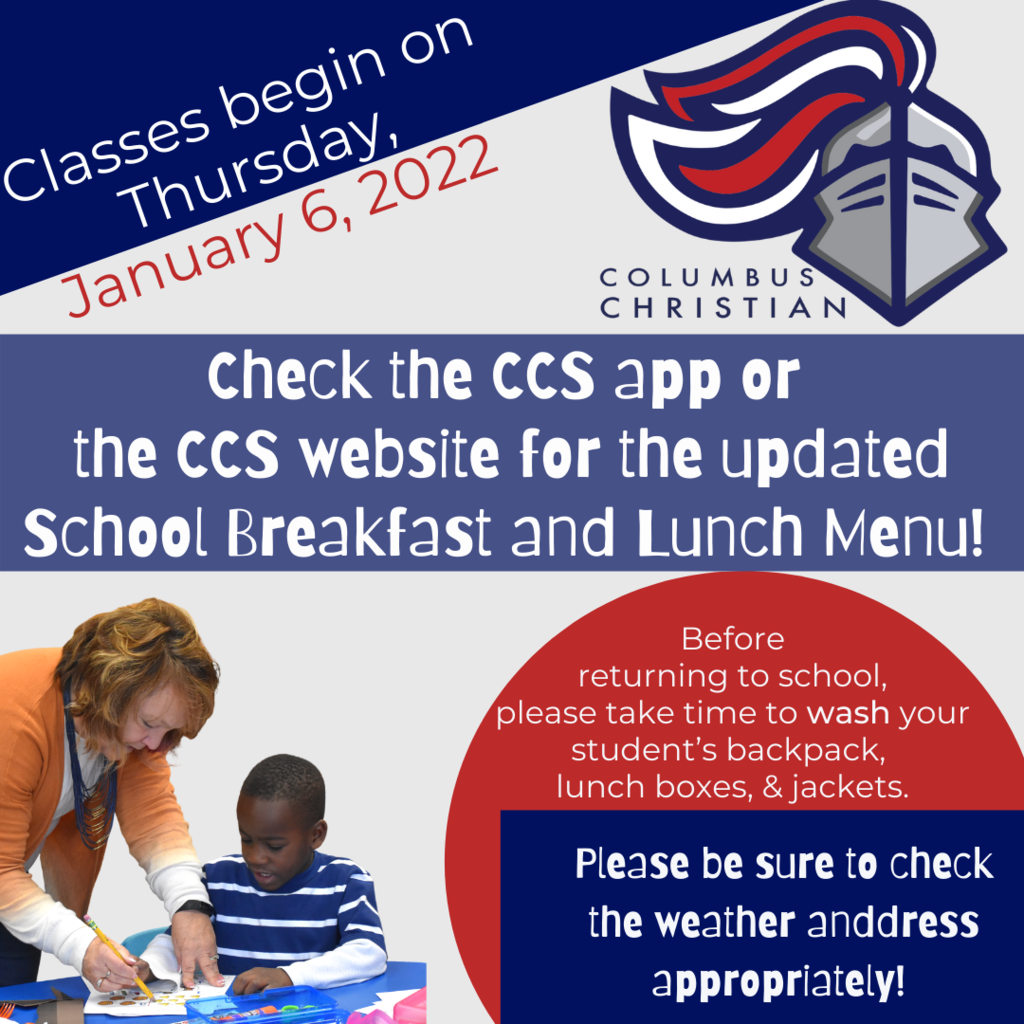 Enjoy the CERAbration of Lights! Monday, December 20th, Ceraland Park is donating 20% of all entry fees to CCS. 🎄 Talk about Community helping Community! Be sure to check it out 🎉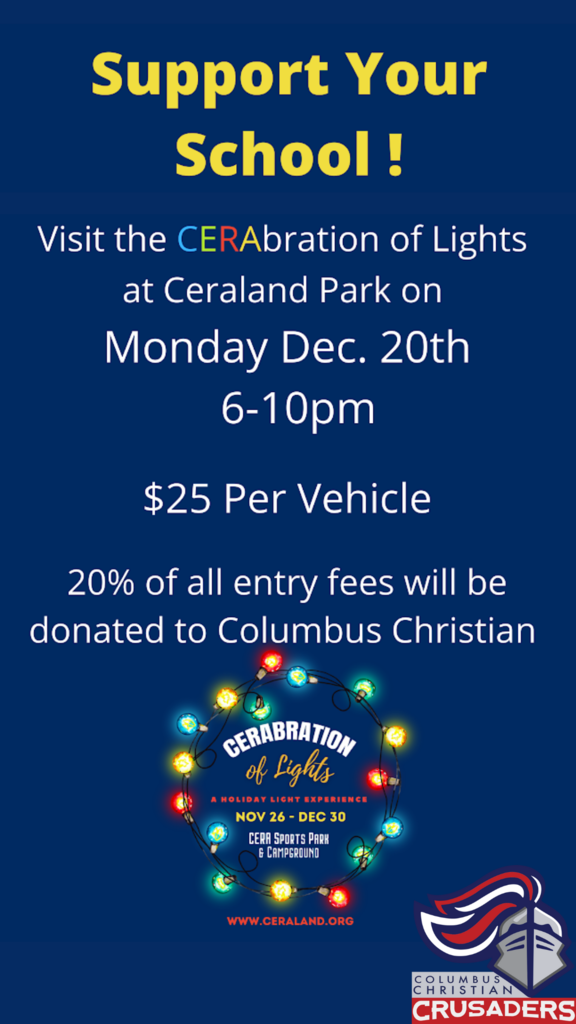 Workers are needed to work the NCAA Championship Game on January 10 selling T-shirts, hats, & collectables at Lucas Oil Stadium. Start time is 5:00 pm.Individuals need to wear Black pants and an official shirt will be provided (send in shirt sizes) - Please email Coach Roth (
kroth@columbus-christian.org
) by TODAY (12/17/21).

Tonight, CCS Preschool and Kindergarten-2nd Graders have their Christmas Program! Students and staff have worked hard to put together tonight's program. We hope to see you there! Thursday night, CCS's Choir and 3rd-5th Graders will have their Christmas Programs!

We are looking for a Secondary English Teacher! If you or you know of someone who would like to join our teaching team, we would love to hear from you! Email Mrs. Donnell to get started!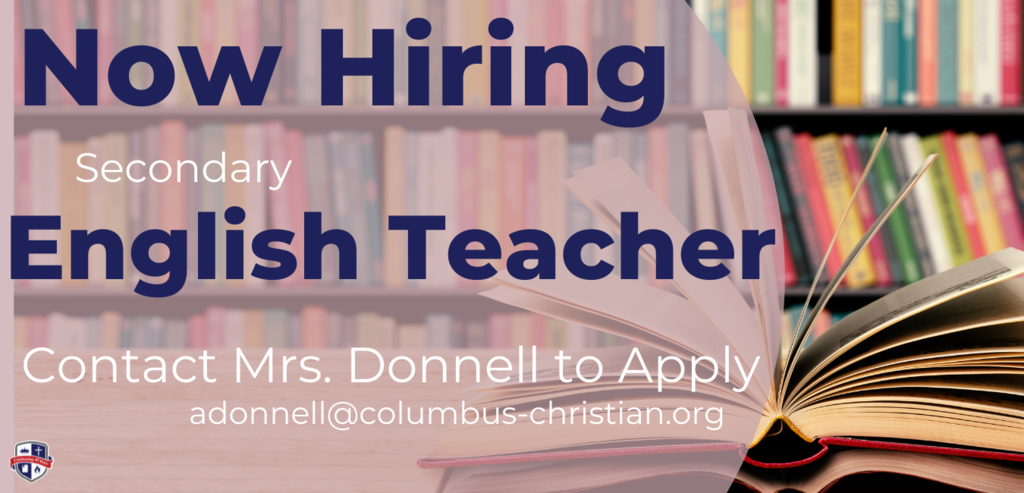 If you ordered a basketball shirt in November, your order is IN! Please pay the office and they will get your order to you! Remember, Short Sleeve: $15/each and Long Sleeve: $17/each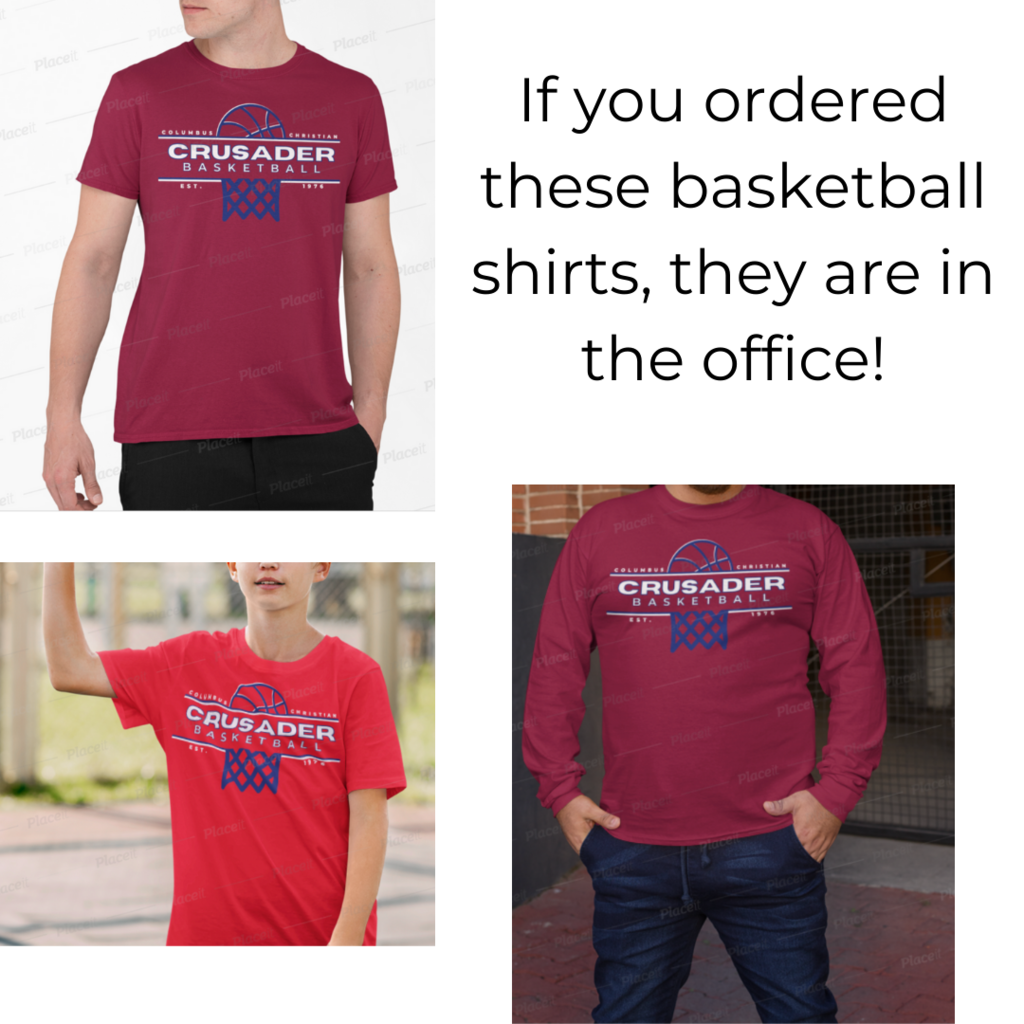 Tonight is a great night for Crusader Basketball! 🏀 JH at 4:30pm, JV at 5:30pm, and Varsity at 7:00pm ‼️

December is an exciting month! Be sure to mark your calendars! More information and added events in the CCS App 📲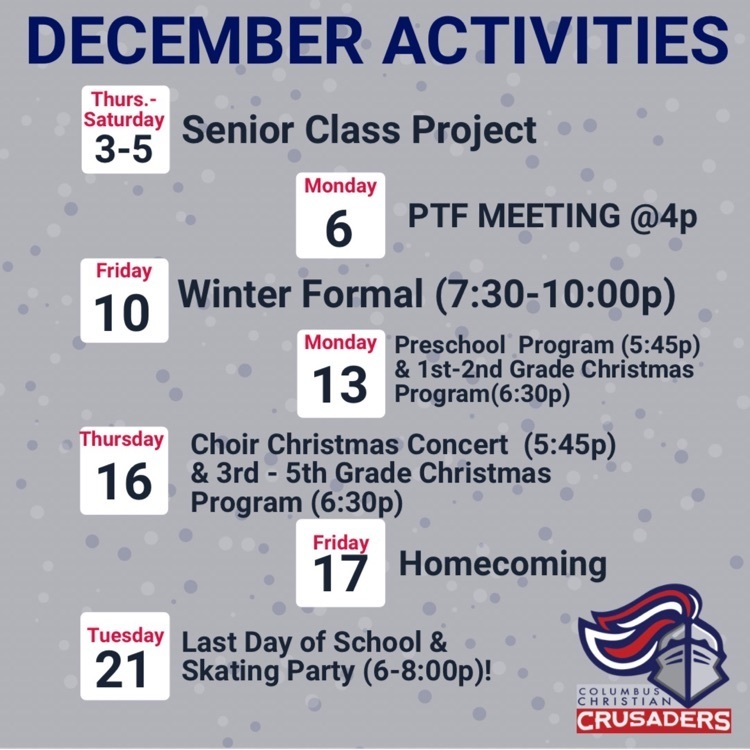 CCS Seniors set up a Christmas Store for our elementary students to buy gifts for their siblings and parents! 🎄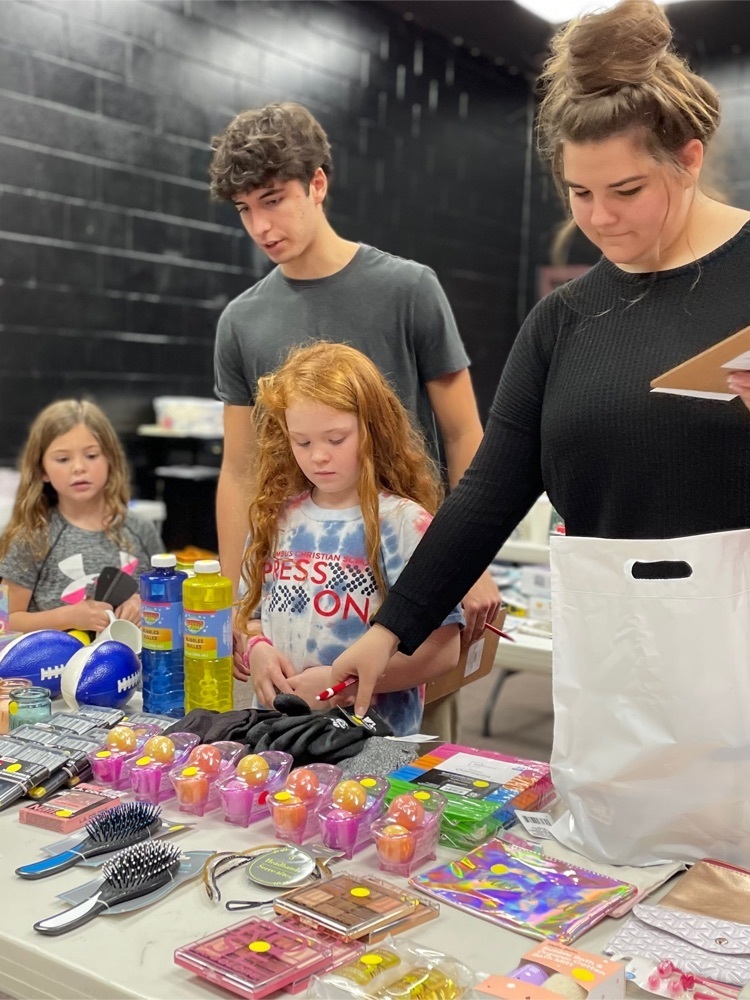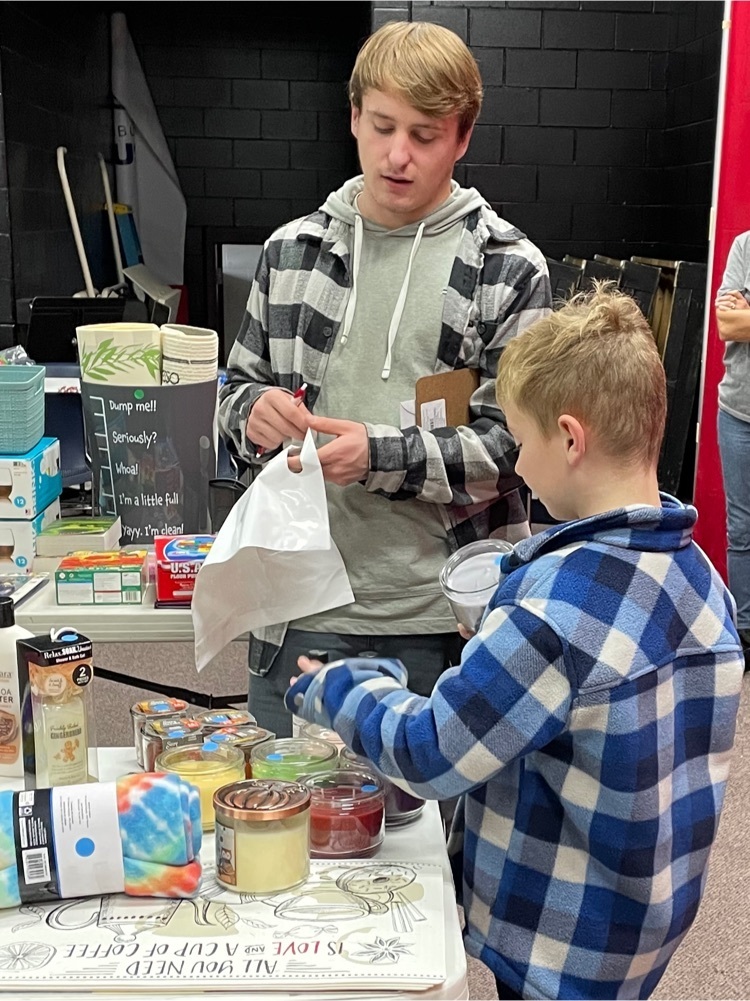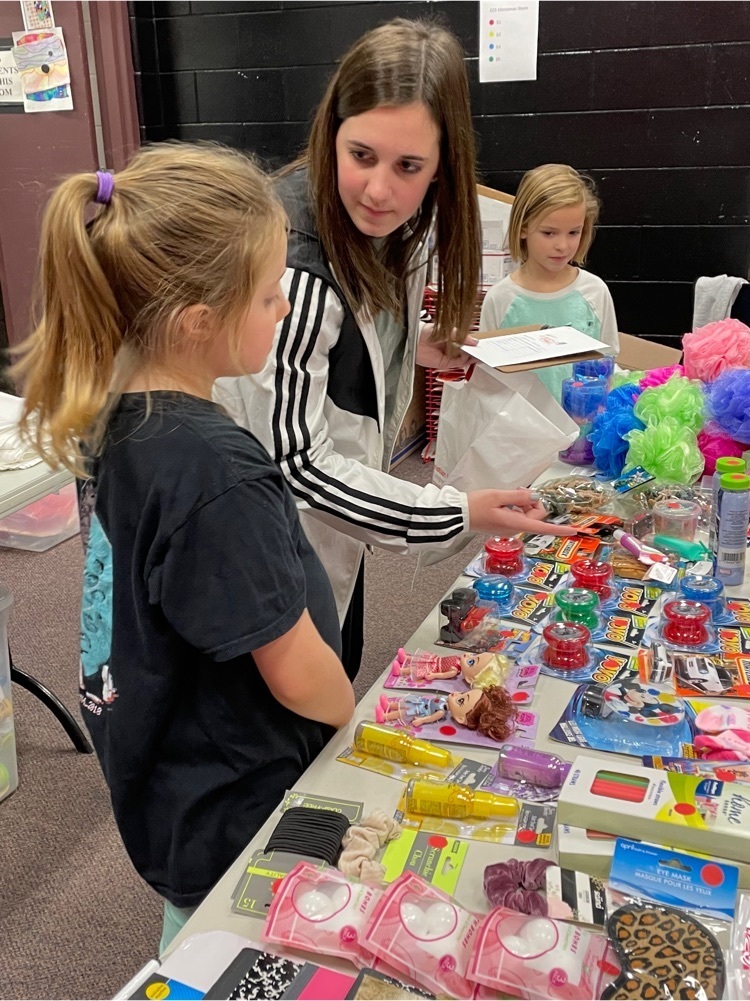 Tomorrow night - Crusader Boys Basketball plays their first HOME GAME - and you're invited! CCS Gear will be set up to purchase (this could make a great Christmas gift)! JH plays at 6:00pm with Varsity to follow 🏀 Students are encouraged to dress in Red, White, and Blue (Theme Night: America 🇺🇸) Tickets are available on EventLink or at the door.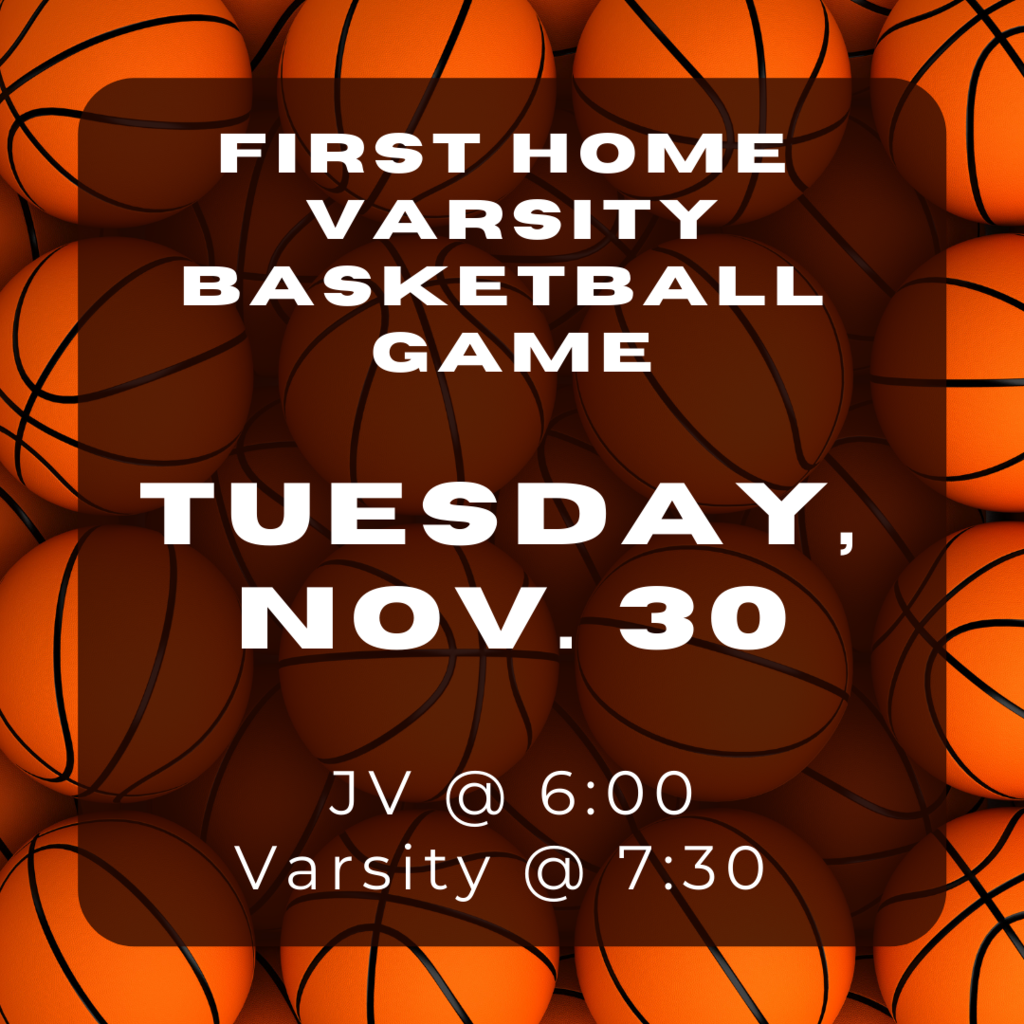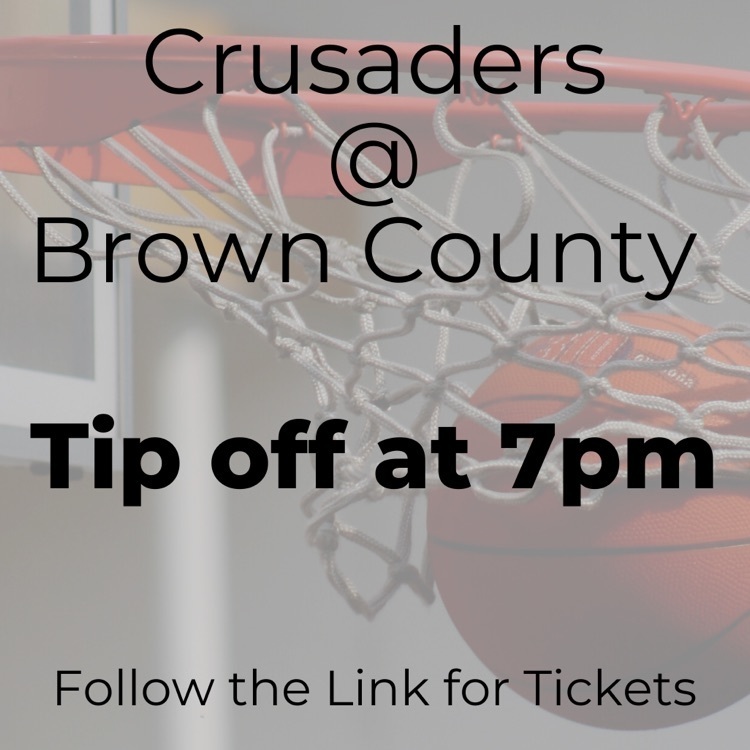 Happy Thanksgiving, Crusader Family!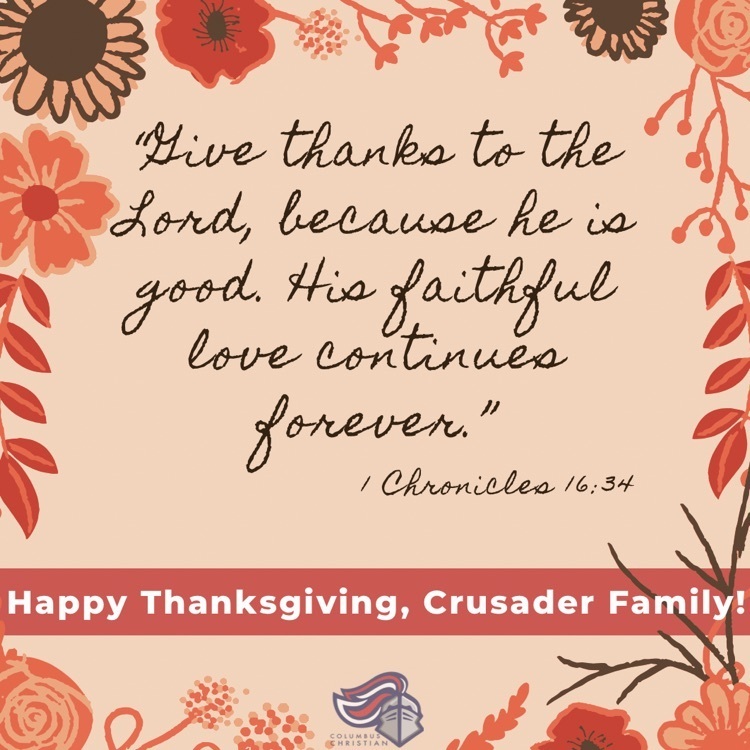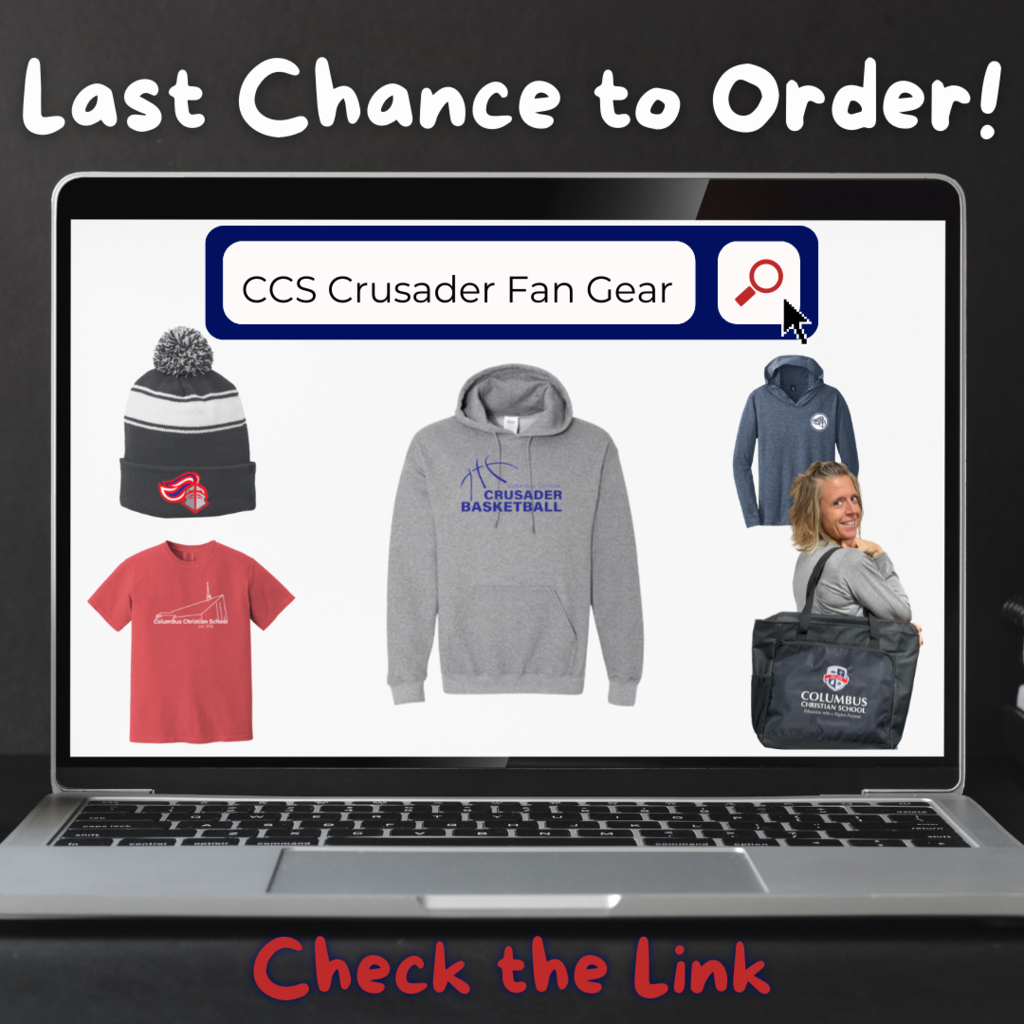 4th Grade's "blessings pumpkin" expresses the many things they are thankful for this Thanksgiving Season! Comment what you are thankful for this year ⬇️